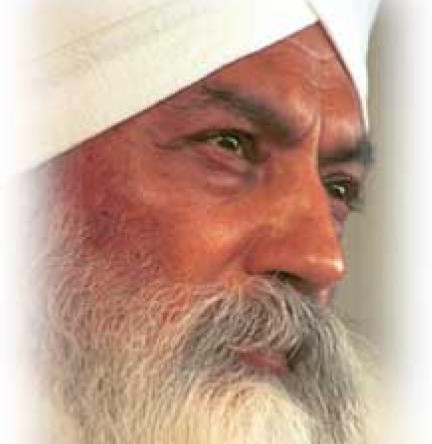 Yogi Bhajan
In 1968 Yogi Bhajan came to the west and taught Kundalini Yoga openly for the first time in history. He shared a body of teachings to empower the emerging planetary consciousness. For thousands of years its practice was exclusive to rulers and sages in India for whom it brought greatness & prosperity. He said that the time had come to make this sacred technology available to everyone. He left us with the tools to live with grace & grit.
Kundalini Yoga will…
 Increase vitality
 maximise healing powers
 strengthen immune, nervous & glandular systems
 enjoy greater stamina & flexibility
 stimulate creativity
 increase mental energy and focus.
Kundalini Yoga is for Everyone
It is practised but also very powerful. It works quickly to give you grace, balance and most of the ability to re-main clam, centred and clear through life's challenges.
As you practice Kundalini Yoga you will grow. You will gain new perspective and capacities as well as habits that support a healthy lifestyle. The best part is you don't need any previous experience in yoga in order to achieve results with your very first class. Kundalini is spiritual but not religious and people of all faiths or no particular faith will benefit from practicing it.
What to expect in a Kundalini Yoga Class
Tuning In
When we practice Kundalini Yoga, we tune in by chanting 'Ong Namo Guru Dev Namo' three times; doing so connects us to the purity of the infinite teacher living within each of us.
Breath (pranayama)
Breath is life energy itself. When we learn how to breathe consciously, we can calm our minds and master all aspects of our lives.
Kryia
A kryia is an exact, dynamic combination of postures (asana), breathing and sound – a complete system that balances body, mind & soul and increases mental clarity and physical vitality.
Meditation
Meditation brings awareness and control of our thoughts. Using mantra ( sacred sound currents repeated aloud or silently) and mudra ( sacred gestures) we can clear negative patterns and connect with our higher consciousness.
Closing the space 
'The long-time Sun' is chanted followed by 'SAT NAM' ( Sat = Truth, Nam = name/identity) three times
Preparing for a Class
Try avoiding eating 2 hours before the start of a class. Wear loose fitting natural fibre clothing. Long hair should be tied up and out of the way. Have a bottle of water you & drink plenty. Bring a natural yoga mat & a blanket or shawl to cover yourself whilst relaxing.
Anyone can do Kundalini Yoga
Anyone can do Kundalini Yoga. If you can breathe and move, you will benefit. It balances the glandular system and strengthens the nervous system so you feel more vibrant and alive. Although some postures require a degree of mobility, you will be shown variations to suit your needs.
The Five Sutras of the Aquarian Age 
Recognise that the other person is you…
There is a way through every block…
When the time is on you, start and the pressure will be off…
Understand through compassion or you will mis-understand the times…
Vibrate the Cosmos. The Cosmos shall clear the path.
For more information visit Yogi Bhajan's website – www.yogibhajan.com